We reserve the right to delay shipping until we feel it is not too hot at our location, your location and all points in between for the safety of your fish.

We highly recommend you ship with U.S. Postal Express and use the Hold For Pick Up option.

You are bidding on 5+1 free of Ancistrus sp Pucallpa Gold with more available at the price of the winning bid. These fish are around 1 3/4+" right now and will grow to around 4-5" in size as adults. Provide driftwood in with all plecos as it aids in their digestion but with the Ancistrus wood is the big part of their diet. In addition to the wood the rest of their diet is comprised of various green foods such as zucchini and Repashy Morning Wood and Repashy Soilent Green.

We are proud to be able to offer these fish from our Family Run Fish Hatchery in Akron, Ohio. WE RESERVE THE RIGHT TO DELAY SHIPPING IF NIGHT TIME TEMPS ARE TOO LOW OR IF DAYTIME HIGHS ARE TOO HIGH TO SAFELY SHIP YOUR FISH. The winner of this auction may buy additional fish at the cost of the per fish winning bid.

All of the fish we sell are tank raised by us in our Family Run Fish Hatchery. With over 40 years of experience keeping and breeding aquarium fish we feel that we can offer you quality fish at a fair price. Since we do not sell imported fish you do not have to worry about getting stressed fish that have traveled many days and have made multiple stops before reaching your aquarium.

Since we are dealing with live animals we like to ship the fastest way possible. USPS (U.S. Postal) Express is 1 day arrival in most places and is sometimes 2 days in rural areas. We encourage folks to use the Hold For Pick Up option which means the post office will hold them at your local branch until you pick them up. This keeps your fish from riding around in the mail truck all day. We do not like to use USPS Priority mail because it is very unreliable. We offer Live Arrival Guarantee on any USPS Express shipment that you use the Hold For Pick Up option. We will guarantee Priority shipment only if it arrives in 1 day, again we do not recommend this. To qualify for the guarantee you must use Express and it arrives in 1 day or Express with the Hold For Pick Up option. The only Priority shipment guaranteed must arrive within 1 day. All of these options the delivery must be on time and someone must be there to accept the fish on the first delivery attempt. If the fish are left outside there is no guarantee. In the event of a loss you must email us a picture of the DOA fish within 2 hours of the actual delivery or time that you pick up at the post office. This picture is of the dead fish in our Unopened Bags, once you open the bag the guarantee is void. We do not guarantee any free fish that are included. Time of delivery is verified by USPS. We do not guarantee any time frames provided by USPS, in other words if USPS claims it will be a 1 day shipment and it turns into 2 or more days we are not responsible for that and we will not refund any portion of the shipping. Our guarantee is only for the cost of the fish you pay for not free fish or cost of shipping. We do not issue refunds to credit cards, PayPal or any other form of payment. We only offer credit to be used on a future order.

Due to the costs of shipping containers and heat packs our minimum order for shipments is $25.00 not including any credits. We do not charge for shipping boxes or heat packs. All of our fish are packed in 2 to 3 layers of 2 or 3 mil bags and will survive 2-3 days of shipping. We take great pride in how we pack our fish and most of our customers tell us that our packing is the best they have seen. We encourage you to buy multiple auctions of our fish to help save on the cost of shipping, even check with friends and maybe we have something they would like. During normal times we travel to auctions and fish events throughout Ohio, Southern Michigan, Northern New York and Western Pennsylvania and we may be able to bring your fish there as opposed to shipping them. If you live close enough to our hatchery you may be able to set up an appointment to pick up your fish. Also check out our website at www.fatfishaquatic.com for other fish or dry goods that can be included with your fish. We pack all of our fish in double and triple layers of plastic bags as needed, we use oxygen on most of our fish and oxygen enriched air on our Corydoras and Loricariid type catfish. We provide styrofoam lined boxes and heat packs as the weather dictates at no additional cost to you. Our fish are packed very well and will travel across the country with no issues.

Please email us at: fatfish@neo.rr.com with your zip code to get a shipping quote or any other questions you may have, PLEASE DO THIS BEFORE YOU PLACE A BID. Payment should be made no later than 3 days after the close of the auction. We accept PayPal as well as debit/credit cards. If paying by debit or credit card there will be a 4% additional fee added to the total (the fee is 4% of the total fish and shipping). Once the auction is closed and the shipping amount has been figured we will send you a PayPal invoice and you can pay from that. Please make sure the address you have listed with PayPal is correct because that is the address we will be shipping to. We only ship on Mondays and Tuesdays in case of a shipping delay then the fish will not sit in a terminal over a weekend. Once we receive your payment we will set up a shipping date for your order. We fast your fish for 3 days to cut down on the waste in the shipping water. Generally if you pay by Thursday or Friday we will ship the first part of the following week.

Again all of our fish are raised in our Family Run Fish Hatchery and we are sure you will be as proud of them as we are.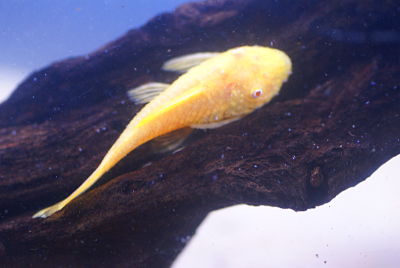 ---
Bid History:
Bidders
Bid Time
Bid
Comments
Hark12 (22/22)
Aug 7 2021 - 03:25:18 PM
$35.00
---