Description
This auction is for 6 x The Black Tiger Badis (Dario sp. "Myanmar") 0.5" inch unsexed.
The photo is for reference. There is NO guarantee on sex ratio, unless the item is listed as a pair.
Shipping
Shipping will be through USPS. There will be two options for shipping, USPS priority express aka overnight (live arrival guaranteed), USPS Priority 1-3 day (live arrival NOT guaranteed) this shipping will only be offered when low temperatures are 40F or above. Priority express (overnight) shipping costs will start at $45.00, USPS Priority 1-3 day shipping will start at $15.
Refund Policy
Refunds will only be offered on USPS Priority Overnight shipments where the fish were DOA up to 2 hours after delivery of the package. Refunds will be given as cash, or credit towards a future purchase.
Email: platinumcichlids1@gmail.com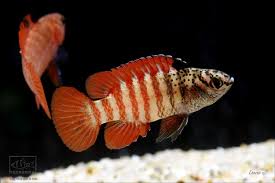 ---
Bid History:
Bidders
Bid Time
Bid
Comments
Rebo429 (3/3)
Dec 6 2020 - 12:02:31 AM
$75.00
BUY IT NOW
---