Very Large 10oz ( Half Pound +) Ready-To-Feed Banana Worm Culture
Includes Baker's Yeast Culture Food - Feeding Pipettes - Free Shipping
Very Thorough Instructions Included With Purchase
Click HERE To See My Other Auctions And Save By Combining Shipping
HERE To See Winter Shipping Options
---
This auction is for a very large, ten ounce Ready-To-Feed (RTF) Bananaworm culture. Widely cultured and used as a first/second food for fry of many species of freshwater tropical fish. This is a RTF and harvest from culture so you will not have to wait a week to feed those hungry fry.
The pictures below were taken twenty minutes after a RTF culture was placed in the container. The worms are already coating the sides and ready to feed with the swipe of a finger. While you are feeding from these mature cultures, you can take a couple spoon-fulls and start some new mother cultures going per the very complete instructions you will get when you purchase your culture.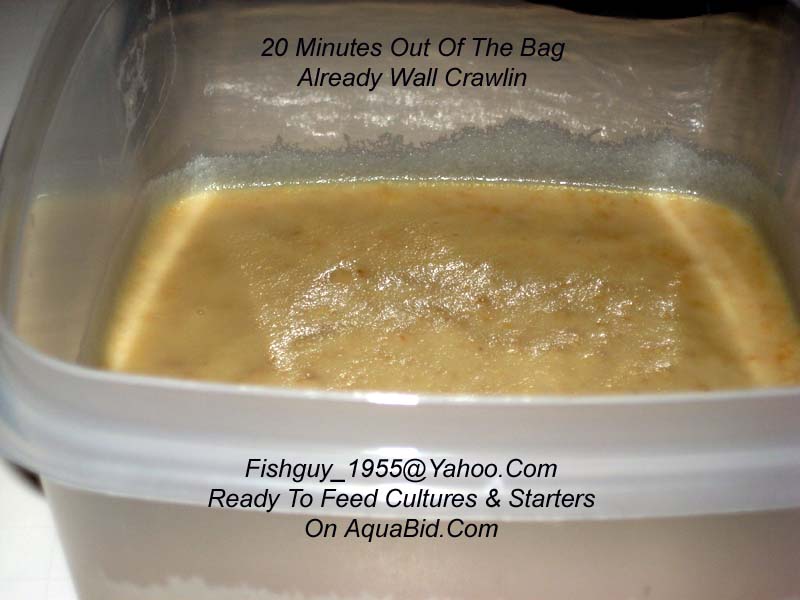 In order to keep your costs as low as possible, I am leaving it up to you to get your own plastic container prior to your culture's arrival. You can get the sandwich kind two or three for a dollar at your local dollar store or super market, which is cheaper by far than the cost for me to buy it and mail it to you. What I will mail you is a mature RTF 10oz culture, heat sealed and triple bagged for safe arrival.
These nematode worms thrive in a simple culture medium of oatmeal enriched with a small sprinkle of active baker's yeast - supplied with your starter. Room temperature up to about 85 F is acceptable, and the worm throw 40 or so young from the their 4th day on. There will ALWAYS be enough worms on hand for all the fry you can produce. The white areas on the sides of the culture below are many thousands of Ready To Feed nematodes.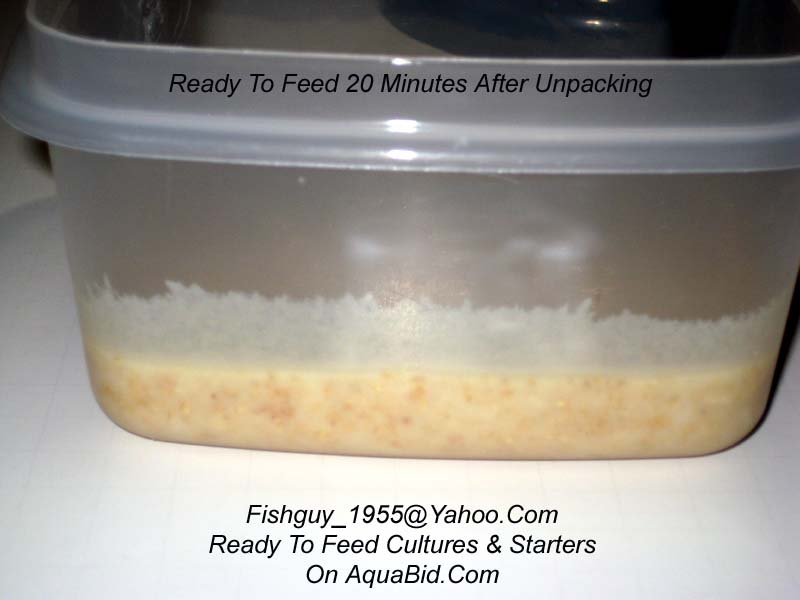 You also get three of my 7ml feeding pipettes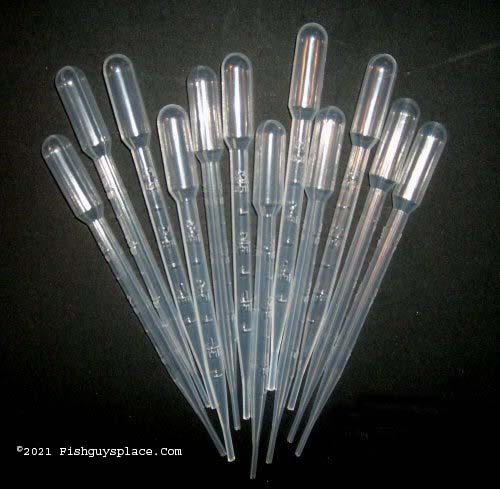 These heavy duty - and most importantly wide barreled - six inch long pipettes are graduated in 1/2 ml increments up the 3ml stem and hold a total of 7ml. They have multiple uses in any fish room or breeding setup. They will come in handy for dispensing medications, transferring fry and eggs (just snip the tip wider with a pair of scissors), delivering small foods right to the fry that need them without spreading them all over the tank, and a whole host of other applications.
---
Your purchase includes free First Class mail shipping anywhere in the US/Puerto Rico - This item is not available outside the US/Puerto Rico
Click HERE for winter shipping options.
We prefer Paypal for payment but US Postal Money Orders available only at your post office are also accepted. I'll contact you regarding payment at the close of the auction. Please wait for my invoice and do not make payment directly to this address.
Thanks for looking at my cultures!

---
Bid History:
Bidders
Bid Time
Bid
Comments
No Bids Placed

---