Larger 6oz Paramecium Starter Culture
Includes Feeding Pipettes
Very Thorough Instructions Included With Purchase
Click HERE To See My Other Auctions And Save By Combining Shipping
---
This auction is for a larger six ounce starter culture of paramecium. This culture is half again as large as the four ounce starter in the image below. Infusoria/Paramecium is perhaps the best live food for extremely small fry. Starting with paramecium can dramatically improve survival during those critical first few days before some fry are big enough to take even micro worms.
Click HERE to go to a complete description and instructions for culturing this highly effective first food. You may purchase here on AquaBid, or directly by email or contact/order form from my website.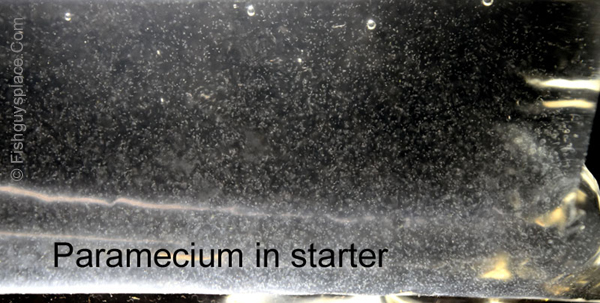 First Class mail shipping anywhere in the US/Puerto Rico is an affordable $3.70 - This item is not available outside the US/Puerto Rico.
Please do not email payment at close of auction before you hear from me.
We prefer Paypal for payment but US Postal Money Orders available only at your post office are also accepted. I'll contact you regarding payment at the close of the auction.
Thanks for your interest in my cultures!

---
Bid History:
Bidders
Bid Time
Bid
Comments
Butirfleye (73/83)
Apr 16 2021 - 12:16:12 PM
$8.00
BUY IT NOW
---