BETTAWAN DRIED INDIAN ALMONDS LEAVES
"Terminalia Catappa"
200 Grade A : 3 " - 7" 
We are situated in the middle of Thailand in Nakhon Sawan. We have several 
Indian Almond trees in and around our village, that have been established there 
for many years. The trees are grown as shade from the sun by the villagers and 
are are totally organic, no chemicals whatsoever are used on the trees, and are 
usually situated away from the roads, so are also free from exhaust fumes.
We only select the best reddish-brown leaves for export, we never use hand-picked 
leaves that have been sun-dried, only leaves that have naturally fallen and are 
high in Tannin.
We have used Indian Almond Leaves for conditioning and care of our Bettas for 
sometime now. The Indian Almond Leaves increase fertility, health, and vigour. 
They also Reduce the Ph in the water, and aid in the recovery of diseased/damaged 
fish and the tannin quickly colours the water.
The Indian Almond Leaves that we supply are ideal for Bettas, Discus, Gouramis, 
Killiefish, Tetras, Arowana's, Angelfish, South American Dwarf Cichlids, 
Corys, Plecos, some Rasboras some Cat-Fishes and Crustaceans.

After we have collected the freshly fallen leaves we store them in our dry room for them 
to dry out. The leaves are then washed, dried/pressed, boxed and stored. When we get a 
order we then un-box the leaves and clean them once again,using a soft brush, making sure 
there are no signs of dust, small insects/eggs, seeds, soil, mould or moisture. We then bag the 
leaves in clear plastic bags and box them ready for shipping. 
We have supplied the leaves to customers in the U.S.A., Canada, Europe, Asia and Australia.
Price includes postage via airmail from Thailand to the address of your choice. 
If tracking number is needed please add an extra $4. Upon confirmation of payment through PayPal, the leaves will be dispatched via 
airmail usually taking 10 - 14 working days.
.............................................................................
Testimony : Your leaves helped me finish #4 on the ISA's top 10 Betta Breeders 
list last season (2008-2009) and I've already got 3 spawns of young winner 
coming along this season. I'm in the #2 spot so far this year. Always proud to 
support quality products and quality service. ( J.R. (Bob) Baker aka Phish Phreek....
http://tcbettas.com )
...........................................................................
Thank you for visiting our Aquabid Auction.
visit our website at www.bettawan.com for more Aquatic Goods
Regards
Jeff & Wan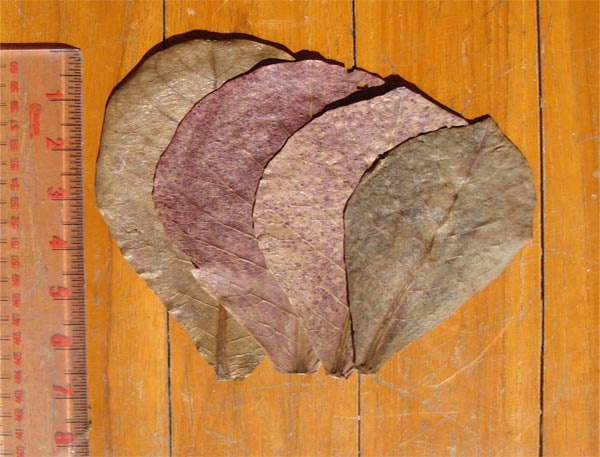 ---
Bid History:
Bidders
Bid Time
Bid
Comments
Vinnymonkey1968 (9/9)
Dec 10 2019 - 07:36:17 AM
$30.00
BUY IT NOW
---