Premium 90% Hatch - Great Salt Lake Brine Shrimp Eggs - One Ounce
PLUS
Two Large Nematode Starter Cultures Of Your Choice MW - WW - BW - VE
PLUS
Six 7ml Graduated Feeding Pipettes
Your choice of two nematode starter cultures and one ounce of Premium 90% Great Salt Lake, hatching brine shrimp eggs. Plenty of food to get your fry through those critical first few weeks and beyond. Choose any two of my large two ounce starters of micro worms, walter worms, banana worms or vinegar eels.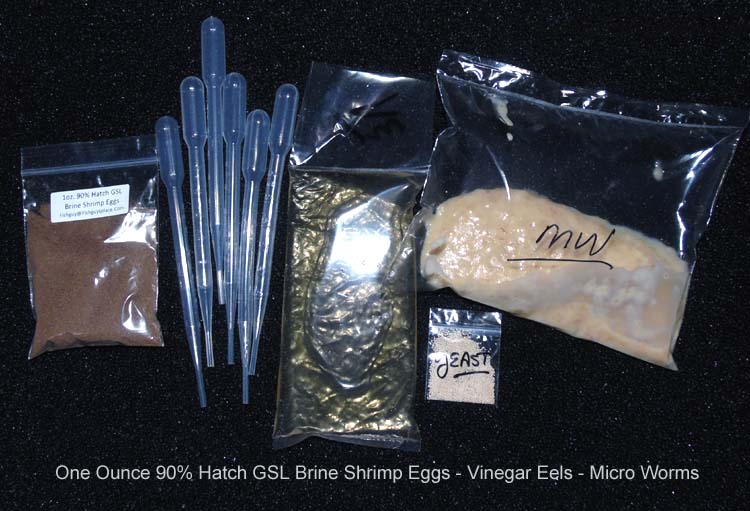 Includes thorough instructions, and unlimited email support to the extent my fifty years in this great hobby can provide. This auction ships only to the US and Puerto Rico, and I accept either PayPal or USPS Postal Money Orders available at any post office. I ship next day if possible and rarely second day after payment is received.

My shipping and record keeping for online payments are based on PayPal invoicing so please wait for my invoice after purchasing this item to make payment.

First Class Mail shipping (weather allowing) with delivery confirmation is $3.20 and Priority Mail shipping with a styro box liner is $7.70. Heat packs are not recommended with brine shrimp eggs in the box because heat can lower the hatch rate. Please contact me before buying if you are unsure of which shipping method to use.

Thanks for your interest and best of luck with your fish!