A Quarter Pound - 4oz - Breeders Best Fry Flake
The Best Flake Available For Growing Fry And Small Fish Of All Species
Click HERE To See My Other Auctions And Save By Combining Shipping
---
I'm very pleased to round out my current line of specialty fry/small fish foods with this top of the line, US made, private label flake. This small size flake food is always fresh from the mill and has been formulated using fish and krill meat as opposed to meal, a very important difference to note when selecting a staple flake.
Many flake foods compensate for a lack of high quality proteins, as available from fish and krill meat by making up the protein requirement using fish and shrimp meals and grain and vegetable protein fillers.
The primary protein source in Breeders Best is high quality seafood protein supplemented with spirulina, providing a wide range of important nutrients along with even more high grade protein. It is also fortified with vitamins and natural beta carotenes to promote natural immunity to disease and enhance color. Protein content is 48% with 10% fat and 3% fiber.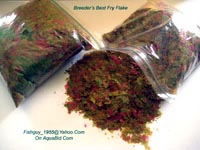 After you've gotten your fry 'over the hump' and growing well, perhaps using one or more of my live food cultures and/or small fry specialty foods, this flake becomes the daily staple that helps them grow out at a really great pace, developing color and disease resistance along the way. It also provides an ongoing daily staple for adults of many smaller species such as endlers, guppies, cyprinids like celestial pearl danios, smaller tetras and of course bettas and many other anabantoids.
I'll send a Paypal invoice for payment at the close of this auction and will ship to your Paypal shipping address unless you let me know otherwise, so please ensure it is correct. If you do not use Paypal, USPS Money Orders, available only at your post office are also acceptable. Just let me know at the close of the auction if you'd like to pay that way.
Shipping for this auction is $2.50 for First Class Mail parcel service with delivery confirmation. I do pass on any savings in shipping accrued by multiple purchases so please feel free to use the link in the auction title to view my other products for savings on combined shipping.
Thanks for your interest in my foods!

---
Bid History:
Bidders
Bid Time
Bid
Comments
Dragonhold (39/39)
Feb 19 2018 - 07:41:43 AM
$4.75
BUY IT NOW
---