Nano Manzanita Group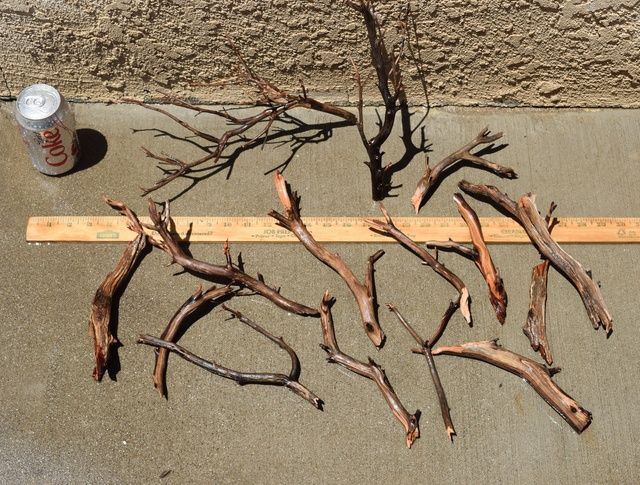 You are getting 15 random mini nano pieces. Every group of 15 will have at least 1 very nice display piece included similar to whats in the example picture. Pieces are shown wet. Pieces will be an avg of 4"-10" give or take. In most cases extra pieces will also be included. All pieces are pressure washed at 1500+ PSI to remove all dirt or left over bark. They are NOT sandblasted, sandblasting tends to leave the Manzanita with a grainy texture. I can usually fit 2-3 auctions in 1 box so combine shipping and save :) Please feel free to message me for a shipping quote (but most places are $12) or any questions that you ha ve.
Manzanita is safe for all freshwater aquariums and in my opinion is one of the nicest looking driftwoods you can get. It will sink on its on after a few days depending on the thickness of the piece and you can tie on moss or plants that will attach and grow. Manzanita is very versatile and can be used to scape in many different ways. You can lay it in the tank in any position, situated with a small piece of slate (not needed), or tied from the top of the tank to give the appearance of coming from above, or ???? there is just so many possibilities. I can also trim any piece for you if you like. ( original price is the same) Measurements are here and the Yard sticks in the pics are a size reference.
Also please check my other auctions for more beautiful wood!
FOR EVEN MORE CLICK THE BANNER BELOW!
I also carry Seiryu Stone that I sell by the pound :)

Click Image to search Google for the photo to see if used elsewhere.


---